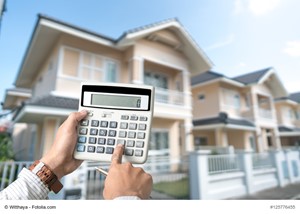 If you're renting a nice house, condo, or apartment, there's a good chance your monthly rent check is almost as much as a mortgage payment. Perhaps you've realized this and have been asking yourself why you're contributing to someone else's nest egg, instead of your own! If that sounds familiar, you may be ready to take the plunge into home ownership.
The other half of the equation is whether you're financially ready, and that would depend on a variety of things, including your credit rating, your debt-to-income ratio, and your ability to make a sufficient down payment on a new home. Although a 20% down payment is a desirable target to aim for, there's often a lot of flexibility on how much you're required to put down on a house.
One of the main reasons a 20% down payment is desirable is that it takes you "off the hook" for having to pay monthly private mortgage insurance (PMI). The second advantage of making a substantial down payment is that it reduces the principal amount of your loan, which, in turn, lowers your monthly payments even more. However, if you're ready to become a home owner, but can't afford a 20% down payment, you can often eliminate PMI payments earlier than scheduled by making extra principal payments. The bank or mortgage company you decide to work with can fully explain their policies and what your options are.
If you are interested in making the transition from renter to home owner, now's a good time to start talking to loan officers. If nothing else, you'll be educating yourself on the intricacies of buying a home. Working with an experienced real estate agent is another way to learn the ropes, so to speak, when it comes to the home buying process.
Other than the financial benefits of building equity in your own home, there are also a lot of practical advantages. If you're currently a renter, for example -- especially in an apartment building, duplex, or townhouse -- you're probably tired of the lack of privacy and the unwelcome noises you can often hear through walls, floors, and ceilings.
Becoming a home owner brings with it a pride of ownership and the ability to plant trees, bushes, and gardens on your own property. Depending on what's available in your price range, you can also enjoy your own private deck, screened in porch, or patio. Options for the kids (if you have them) include swing sets, sand boxes, and room to play backyard sports or run through a water sprinkler during the hot weather.
If you feel like you are ready to take the plunge into home ownership, the first step is to make lists of your requirements, your preferences ("wish list"), and financial resources. The next step is to find a good real estate agent to start showing you homes that fulfill your needs and check off as many items on your wish list as possible!